Solutions
MENU BOARDS
Doohos has a price breakthrough on digital menu boards, through innovation and screen design but most importantly our media player solution. Doohos has slashed the price of digital menu boards while improving display quality, halving power use and our user friendly content managment system.
Doohos provides the quick service restaurant industry with digital menu boards to help our clients communicate better with customers and thus, faciliating more profitable choices. Video and animation effects, flexible playlists to highlight product offerings, time of day scheduling to customise menus and instant menu updates in response to changing circumstances are just some of the features that allow businesses to use digital menus to increase sales.
In addition, digital menu boards provide a range of operational benefits including:
Use our smart, secure and easy to use cloud-based system to update a single display or a national network of displays, all from a web browser in any location with a few clicks.
Create Playlists and Schedule specific menu specials
Digital menu boards can also help to reduce print and distribution costs.
Quickly and easily update menu text, pricing or product images, instantly with no special skills or software.
Low cost response to changing regulatory requirements, such as the need to publish nutritional information.
An enterprise quality system with an entry level price.
Retail concession displays can be managed through Doohos
Doohos can provide digital menu screens in landscape or portrait format sized from 32" to 55". Protective cases and our installation expertise delivers reliable operation in harsh restaurant environments.

DIGITAL SIGNAGE
Remotely control and instantly update in-store promotions and messaging, automatically change signage by location on an unlimited number of devices and screens in every store in the chain.
One of the biggest keys to the power of digital signage is the network's ability to interface with virtually any data source, including graphic and photo images to animation and your social media feeds. The result is a digital signage solution that's incredibly intelligent and adaptive to up-to-the minute needs.
Applications best suitable for Digital Signage: Retail Advertising // Menu Boards // Corporate Communications // Directional Screens // Wayfinding // Digital Noticeboards // Foyer Displays // Digital Noticeboards // Lunch Rooms // Meeting Rooms // Foyer Displays // Production Reporting // System Reporting // OH&S Messaging // Corporate Indentity // Corporate branding // Corporate reputation // Employee communications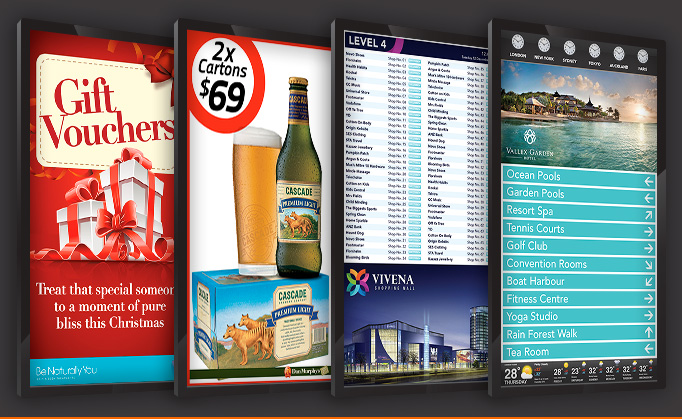 WAYFINDING AND DIRECTIONAL SIGNAGE
Wayfinding is a behaviour, it is not the same as signage. Navigation from place to place is a fundamental human activity and an integral part of everyday life. Where are you? Where are you heading to? People use their knowledge and previous experiences to find their way in the build environment. The world of interactive signage is constantly evolving, Doohos can introduce you to many of these great interactive technologies to suit your business and or other requirements.
The Doohos solution for wayfinding displays and room entry displays engage and assists hotels, shopping malls and other larger locations in getting the right information and directions to the clients and visitors quick and easily via a stand alone kiosk or wall mounted touch screen.
INTERACTIVE TOUCHSCREENS
Engage with customers and be part of their social network. A digital signage network is far more than signs on the wall. Kiosks on the network offer amazing interactive capabilities. If you need to provide or gather information from people in a particular location, then we can create a solution for you. Today's consumers require technology to be convenient, enjoyable and easy to use. Doohos can design and develop solutions that provide an easy and familiar approach to deliver more products, to a larger buying audience, but without the exorbitant costs of normal retail operations. Talk to us about a custom touch screen kiosk solution for your business.
Applications best suitable for Interactive Touchscreens: Hotels // Shopping Malls // Convention Centres // Airports // City Centres // Office Buildings // Tourism Centres // Hospitals // Theme Parks // Bus Routes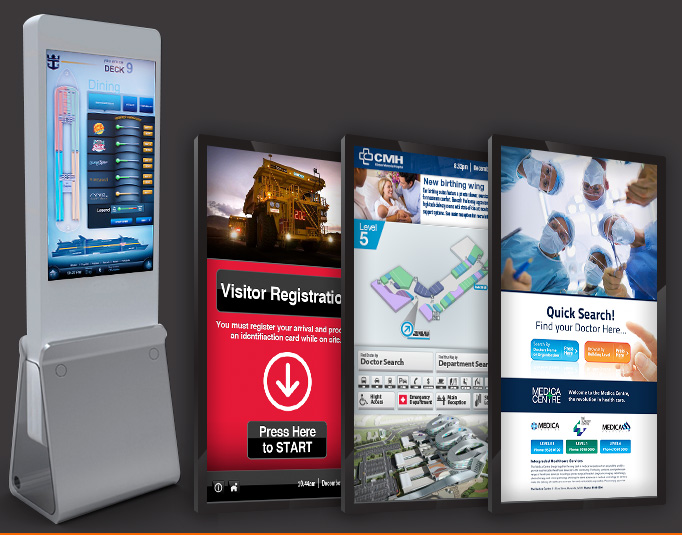 EXHIBITION AND TRADE SHOW DISPLAYS
Exhibition and trade show stands can be a challenge when you are wanting to keep your display fresh and attract customers.
Doohos has a variety of solutions available for exhibition stands including: Digital Displays ranging from 19" to 55" // displays, portrait and landscape;Interactive displays ranging in size from 19" to 46" // Interactive tables.
The products can be built in to the display stand or added as a separate item.
Find out what digital signage solutions can do for your business. Contact us or stop by our interactive showroom