How it Works
Affordable. Simple. Effective.
Quick overview of how Doohos digital signage works

Interactive digital signage is an emerging communication platform. Incorporating interactively in digital signage has opened a world of possibilities for a technology that is continually and rapidly evolving. The result is a variety of new and compelling ways to engage viewers, and in some cases, make them active participants in virtual worlds.  Touch technology allows for self-driven, on-demand access to a visually rich display of unlimited information.  The team at Doohos are making this technology possible for any size business you may be. Affordable. Simple. Effective
The concept of Doohos Digital Signage is to put all the capabilities of the digital world in the service of advertising and information, whose content is available on screen, in places where they are beneficial for brands/services and their customers, such as point of sale, public spaces, events and much more.
With Doohos you will not only receive the display hardware and digital signage system, but marketing ideas we have from experience that can help develop a strategy for your solutions. Once your doohos system is installed and running we are always avaialble to help with marketing ideas and content, making sure your return on investment is instant.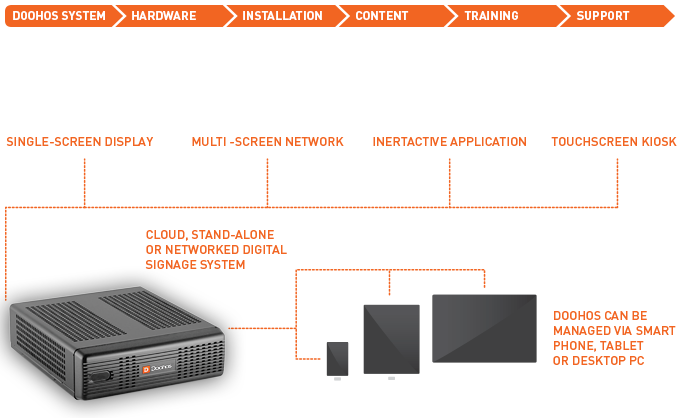 Why Digital Signage
Because it offers the possibility to display segmented, dynamic and great visual impact in just one space, which effectively captures the costumers attention at the point of decision, where the person waits for service, or searches for the desired product. Comparing with the traditional static communication (printed posters, flyers), its benefits and investment value can easily exceed expectations when referring to its return.
The core purpose of digital signage for any business is to make or save money, for that reason this media can be used in many multiple ways. the flexibility of doohos lets you try marketing ideas in an inexpensive approach while measuring product purchase (ROI).
Find out what digital signage solutions can do for your business. Contact us